Museums are meant to have wide appeal as institutions of learning, but sometimes things go awry – as is the case in the following ten bizarre museums. Take a journey to the dark side of museum life with our top 10 bizarre museums!
10. Museum of Jurassic Technology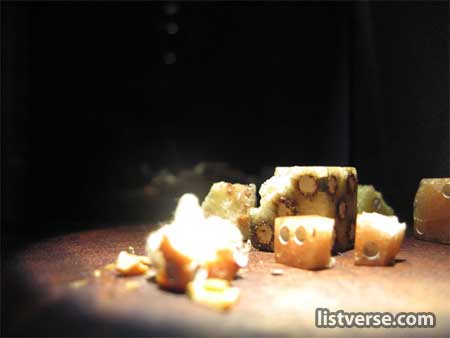 The museum claims to have a "specialized repository of relics and artifacts from the Lower Jurassic, with an emphasis on those that demonstrate unusual or curious technological qualities." This explains the museum's name and also suggests its puzzling nature, since the Lower Jurassic ended over 150 million years before the appearance of hominoids and in particular before anything that could be called technology. Some of the exhibits found in the museum are a collection of decomposing antique dice owned by magician Ricky Jay, a collection devoted to trailer park culture, entitled "Garden of Eden On Wheels", an exhibit on household myths of years past, and a collection of micro-miniature sculptures and paintings, such as a sculpture of Pope John Paul II carved from a single human hair and placed within the eye of a needle.
Address: 9341 Venice Boulevard, Culver City, California 90232
9. British Lawnmower Museum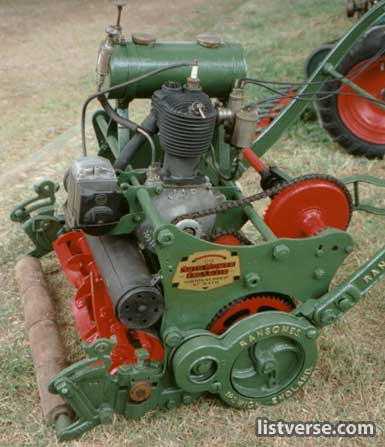 This museum includes over 400 vintage and experimental lawnmowers, highlighting the best of British technological ingenuity. Of particular interest are the 1921 ATCO Standard 9 Blade, a solar powered robot mower, and unusually fast or expensive mowers. Included in this Unique National collection are manufacturers not normally associated with the garden industry, names such as Rolls Royce, Royal Enfield, Daimler, Hawker Sidley, Perkins Diesel, British Leyland, Fraser Nash and many more. Most of the exhibit's technical and industrial artifacts are from the Victorian and Edwardian era and the restored exhibits are devoted to keeping a small part of British engineering Heritage alive.
Address: 106-114 Shakespeare St., Southport, Lancashire, PR8 5AJ
8. Kansas Barbed Wire Museum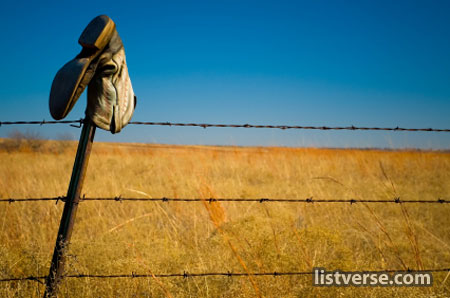 The Kansas Barbed Wire Museum in LaCrosse, Kansas is devoted solely to the history and legend of the early part of American history often referred to as the "Devils Rope". On exhibit are over 2000 barbed wire varieties; including samples manufactured between the years 1870 and 1890. Hundreds of antique fencing tools illustrate the inventiveness of pioneers. The museum presents interesting ways to learn about one of the Midwest's most important contributions to America's history. Dioramas of early barbed wire use, a theatre featuring educational films, the Barbed Wire Hall of Fame, the museum archives room, and a research library all help to conjure up images of settling the Midwest.
Address: 120 W. 1st Street, LaCrosse, KS, 67548
7. Glore Psychiatric Museum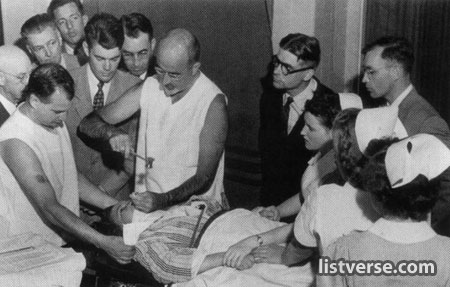 The Glore Psychiatric Museum brings to life the glorious history of psychiatric treatment through dioramas, models, and reproductions. The earliest form of therapy seems to have been administered with a sharp stick or club. By the Middle Ages treatment encompassed public humiliation, dunking, blistering, the ever-popular bleeding, and burning at the stake. Fortunately, by the 20th century, psychiatric treatment had evolved to include icy baths, tranquilizers, vibrating chairs, and electroshock therapy. Some of the more interesting objects on display include the tranquilizer chair, a things-swallowed-by-patients exhibit, and a giant hamster wheel for especially energetic patients.
Address: 3408 Frederick Ave., St. Joseph, MO (Be mindful not to drive into the entrance for the prison next door — they're a little jumpy.)
6. The Creation Museum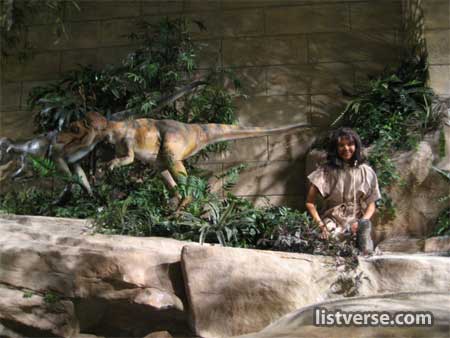 The Creation Museum is a 60,000 square foot museum in the United States designed to promote young Earth creationism. The museum presents an account of the origins of the universe, life, mankind, and man's early history according to a literal reading of the book of Genesis. Its exhibits reject evolution and assert that the earth and all of its life forms were created in 6 days just 6000 years ago and that man and dinosaurs once coexisted. The National Center for Science Education said:
"We, the undersigned scientists at universities and colleges in Kentucky, Ohio, and Indiana, are concerned about scientifically inaccurate materials at the Answers in Genesis museum. Students who accept this material as scientifically valid are unlikely to succeed in science courses at the college level. These students will need remedial instruction in the nature of science, as well as in the specific areas of science misrepresented by Answers in Genesis."
The Guardian called the facility "quite possibly … one of the weirdest museums in the world."
Address: 2800 Bullittsburg Church Rd. Petersburg, KY 41080
5. Museum of Eroticism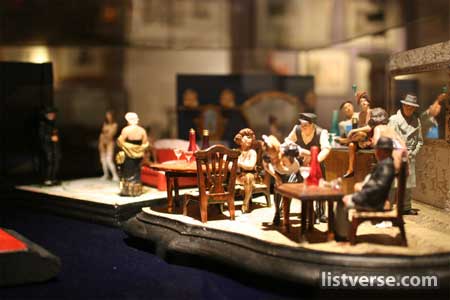 The Museum of Eroticism is a museum devoted to the erotic art collections of antique dealer Alain Plumey and French teacher Jo Khalifa. Founded in 1997 at 72 Boulevard de Clichy, the museum is situated in the Pigalle district of Paris, France. The collection ranges from the ancient religious art of India, Japan and Africa right up to contemporary art with an erotic focus. There are five floors, including a basement exhibition. One floor is devoted to maisons closes, the legal brothels of the 19th and early twentieth century.
Address: 72 Bd de Clichy, 75018 Paris, France
4. Icelandic Phallological Museum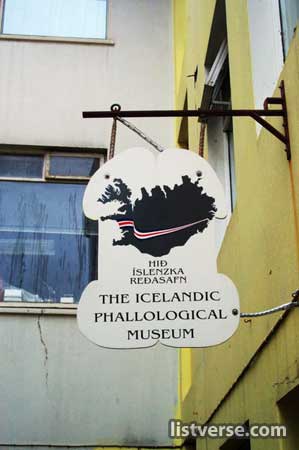 The Icelandic Phallological Museum contains a collection of over one hundred penises and penile parts belonging to almost all the land and sea mammals that can be found in Iceland. Visitors to the museum will encounter thirty specimens belonging to twelve different kinds of whale, one specimen taken from a rogue polar bear, eighteen specimens belonging to seven different kinds of seal and walrus, and fifty one specimens originating from sixteen different kinds of land mammal: all in all, a total of one hundred specimens belonging to thirty six different kinds of mammal. The museum has also been fortunate enough to receive a legally-certified gift token for a future specimen belonging to a human.
Address: Hedinsbraut 3a, 640 Husavik, Iceland
3. Sulabh Museum of Toilets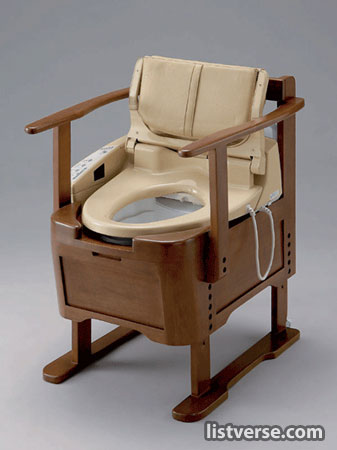 At the Sulabh museum of toilets, you can see the evolution of the "loo" as well as catch up on the latest toilet jokes from around the world! Dr. Bindeshwar Pathak, the Founder of Sulabh International Social Service Organisation, a pioneering non-profit voluntary organisation (NGO) in the field of Sanitation in India, envisioned the need for the setting up of a museum of toilets in the sprawling campus of his central office, and has consultative status with Economic and Social Council of the UN!
Address: Mahavir Enclave, Palam Dabri Road, New Delhi, India
2. Mütter Museum Medical Museum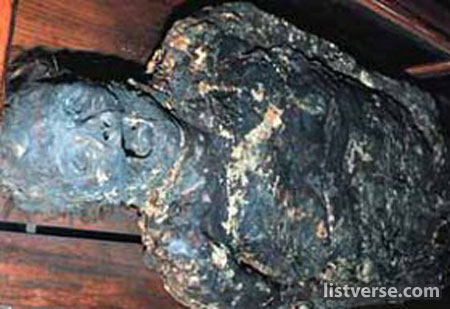 The museum is best known for its large collection of skulls and anatomical specimens including a wax model of a woman with a human horn growing out of her forehead, the tallest skeleton on display in North America, a 5′-long human colon that contained over 40 pounds of fecal matter, and the petrified body of the mysterious Soap Lady (image above), whose corpse was turned into a soapy substance called adipocere. The museum also houses a malignant tumor removed from President Grover Cleveland's hard palate, the conjoined liver from Siamese twins Chang and Eng Bunker, and a growth removed from President Abraham Lincoln's assassin, John Wilkes Booth. This is a must see place for a cold wintery day.
Address: 19 South 22nd Street, Philadelphia, PA, 19103.
1. Antique Vibrator Museum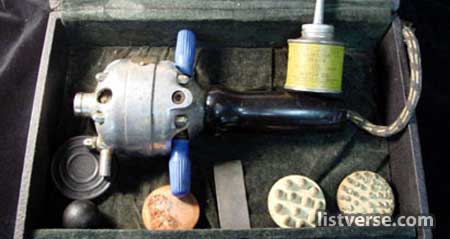 In days long gone, doctors used vibrating devices in the treatment of "hysteria," which they viewed as the most common health complaint among women of the day. Hysteria was a medical term developed to describe a woman's display of mental or emotional distress, behavior then considered a disease in need of treatment. Good Vibrations' founder, Joani Blank, collected antique vibrators for over 20 years. In this curious museum you get to see her entire collection, as well as more modern takes on the vibrator. Pictured above is a 1902 "Type A", Hamilton Beach vibrator.
Address: 603 Valencia Street, San Francisco, CA 94110
Source: http://listverse.com/2008/02/05/top-10-bizarre-museums/